2018+  STANDARD CAB AND 2019+ CREW CAB RANGER 1000.
READ THE INSTRUCTIONS BEFORE INSTALLING THE KIT. 
STEP 1. REMOVE BELT COVER AND BELT USING THE BELT REMOVAL TOOL FROM YOUR FACTORY TOOL KIT.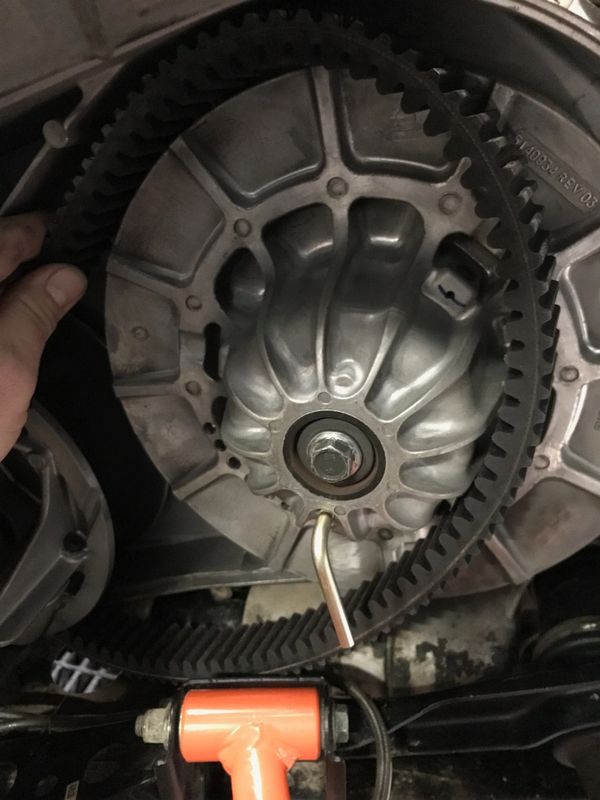 STEP 2. PARTIALLY REMOVE THE SIX 10mm BOLTS ON THE SPRING CAP OF THE PRIMARY CLUTCH. THIS CAP HOLDS THE SPRING PRESSURE AND HAS A TENDANCY TO STICK A LITTLE. WORK THE CAP SO IT RELEASES FROM THE CLUTCH, THEN REMOVE THE BOLTS THE REST OF THE WAY ALONG WITH THE SPRING AND SPRING CAP. THEN USING A T60 TORXS BIT REMOVE THE MAIN BOLT, OUTER SHAFT, AND SHIMS. BE SURE ALL THE SHIMS STAY ON THE OUTER SHAFT AND IN THE ORDER THEY WERE INSTALLED.

IT SHOULD LOOK LIKE THIS ONCE REMOVED.
STEP 3. USE A MARKER OF SOME SORT TO MARK "TIME" ON THE SPLINES ON THE INNER CLUTCH SHAFT AND THE SPIDER. SEE PIC BELOW.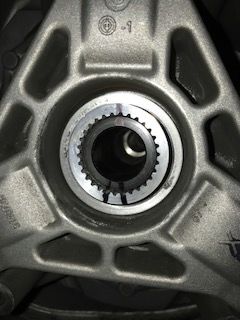 STEP 4. FIRMLY SLIDE MOVEABLE SHEAVE IN AND OUT TO REMOVE THE SPIDER FROM THE SPLINED SHAFT.
SEE VIDEO ABOVE! MAKE SURE TO LEAVE THE ONE WAY ASSEMBLY ON THE SHAFT.
STEP 5. INSTALL SPIDER SHIM "LARGE" SHIM ON THE END OF THE ONE WAY SPRING CAP.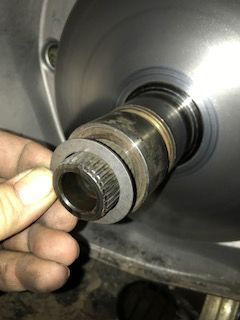 STEP 6. REMOVE THE FACTORY SHIFT ARMS FROM THE MOVEABLE SHEAVE AND INSTALL THE QSC ARMS FROM THE KIT.
STEP 7. MAKE SURE THE "X" ON THE SPIDER IS LINED UP WITH THE "X" ON THE MOVEABLE SHEAVE.
REINSTALL THE MOVEABE SHEAVE AND SPIDER BACK ON THE INNER SHAFT. MAKE SURE TO LINE THE TIMING MARKS ON THE SPLINES THAT YOU MADE EARLIER WITH YOUR MARKER. "NOTE" THE SPIDER WILL NOT FULLY SEAT UNTIL THE BOLT IS TIGHTENED.
STEP 8. INSTALL THE TWO THIN SHIMS ON THE OUTER SHAFT ASSEMBLY AS SHOWN IN THE IMAGE BELOW.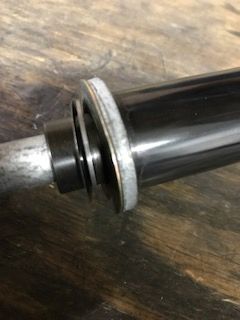 STEP 9. REINSTALL THE MAIN BOLT AND OUTER SHAFT INTO THE INNER SHAFT. LIGHTLY TIGHTEN TIL THE SPIDER COMPRESSES THE ONE WAY SPRING AND SEATS IN PLACE.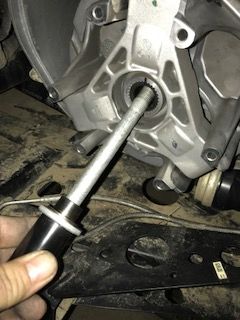 STEP 10. INSTALL THE NEW SPRING FROM THE KIT, AND TIGHTEN THE SIX 10mm SPRING CAP SCREWS.
TORQUE TO 8 FT/LBS. MAKE SURE THE "X" ON THE SPRING CAP IS ALIGNED WITH THE "X" ON THE SPIDER, AND ON  THE MOVEABLE SHEAVE. 
STEP 11. USING A TORQUE WRENCH AND PRY BAR TIGHTEN THE MAIN BOLT TO 96 FT/LBS. SEE IMAGE BELOW.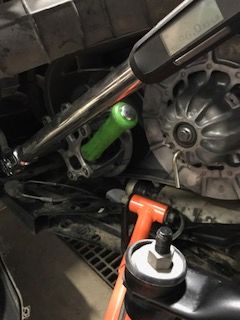 STEP 12. WITH THE SHIFT LEVER IN THE "PARK" POSITION, REINSTALL THE BELT AND REMOVE THE BELT TOOL. ROTATE THE SECONDAY CLUTCH UNTIL THE BELT CLIMBS TO THE TOP OF THE SECONDAY AND TIGHTENS UP. 
STEP 13. REINSTALL THE BELT COVER. YOU ARE DONE.